The live Monster Ring event is the most recent example of the ring-based events that have grown commonplace in Free Fire.
This event promises players a variety of exclusive gifts, including alluring gun skins and costume bundles. Information about this event was previously discovered by data miners, specifically @macbruh_ff.
These sought-after products must be purchased using diamonds, making the event popular among Free Fire players.
The DMC Ring competition, which ended on September 14, 2023, has been officially succeeded by the Monster Ring competition. We examine the specifics of this live event in this post.
Free Fire Monster Ring Event
Beginning on September 14, 2023, and expected to last through September 27, 2023, is the Monster Ring event. The possibility to win interesting gifts is accessible to gamers on the servers in Bangladesh, India, and Singapore.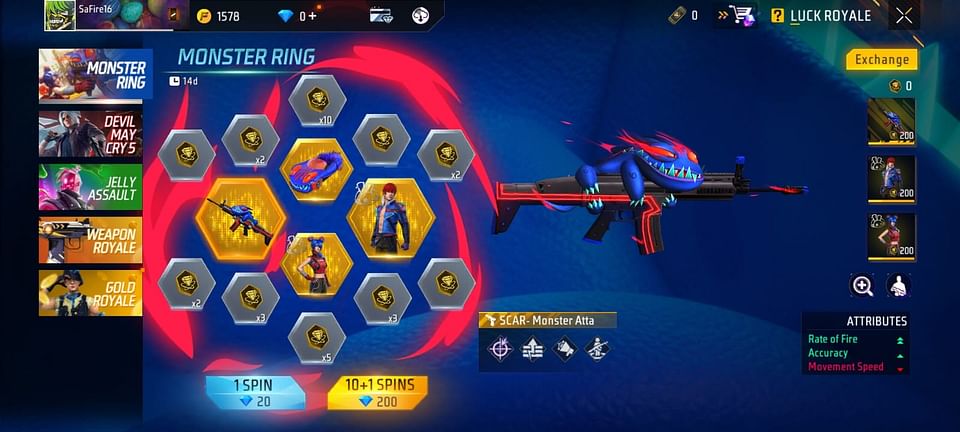 The Monster Attack Scar (with improved firing rate and accuracy), Cobalt Monster Club Bundle, Scarlet Monster Club Bundle, and the fascinating Monster Transformer Sports Car are some of the main prizes offered during the Monster Ring event. The event offers a variety of other awards in addition to these special ones.
Players must use diamonds to purchase spins in order to compete for things from the prize pool during the Monster Ring event. There are also tokens available, which gamers can trade for particular rewards of their choice. Since the event is currently taking place in the game, it's crucial to note that this information is now confirmed.
Also Read;
Diamond Cost for spinning the Monster Ring
Each spin in the Free Fire Monster Ring event costs 20 gems. But those who choose to take ten spins all at once will receive an alluring bonus. Players who select this choice will get an additional bonus spin, boosting their chances of winning desirable prizes.
The Free Fire Monster Ring event has begun, giving players the chance to engage in a thrilling adventure loaded with special rewards.