The A3 Royale Pass is coming to PUBG Mobile, and it is coming on 12 September 2023. This is a Royal Pass, which will get rewards of up to 100 RP, such as a mythic suit for women and crossbow's upgraded skin.
In this article, we will tell you about the exciting features and rewards of this A3 Royal Pass.
PUBG Mobile's A3 Royale Pass, coming on September 12, 2023, is a happy news for gamers. In this Royal Pass, you will get a mythic suit for women, which will reach 100 RP. The design and appearance of this suit will definitely affect the players.
And if you're a crossbow enthusiast, this Royal Pass is a priceless opportunity for you. In this, you will also get the upgraded skin of Crossbow, which you can reach Level 3. This skin will give a new professional design and firepower to your crossbow.
Also Read: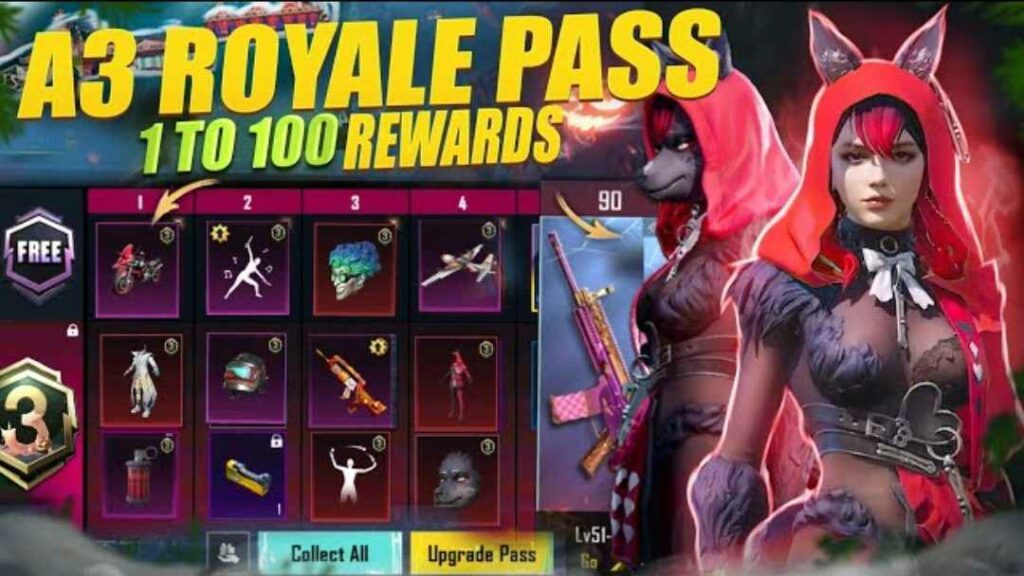 A3 Royale Pass Rewards 1 to 100 RP Rewards
Gutsy Lass Set
Gutsy Lass Cover
Uncanny Carnival – Famas Skin
Ashamed – Free Emote
Spectral Night Plane Skin
Ghastly Gloom Helmet Skin
Steampunk Raider Parachute Skin
Ghastly Gloom – Mini14 Gun Skin
Nitro Maniac – Mythic Set
Nitro Maniac Cover
Circus of Screams – Crossbow Upgrade Skin
Wing It – Free Emote
Deadly Carnival – M1014 Gun Skin
ClockWork – Backpack Skin
Disco Ball Ornament
Brawler Master Free Set
Flashy Fox Sidecar Motorcycle Skin
Magic Puff Smoke Garnade Skin
Lunahowl Mythic Emote
Luxurious Overlay SCAR-L Skin
Lunahowl Mask
Lunahowl 100RP SET
So that was A3 Royal Pass, hope you like the rewards of A3 Royal Pass. 100 rp mythic set up of this royal pass can change the color.
There are many more rewards and surprises that come with this A3 Royale Pass, which will make players happy. So on September 12, 2023, a new environment will be created for PUBG Mobile players, when it launches A3 Royale Pass. Let's welcome this joyous moment and join in to make your gaming skills and wardrobe even more interesting.