In the Call of Duty: Mobile game everyone can pick up a gun at the start of the game and start killing enemies quickly across the map. Sniper rifles are harder to use than assault rifles and SMGs, as they require players to have a specific aim with their shots.
While a short shot from most sniper rifles is enough to kill an enemy, enemies can attack you if your shot misses. When playing with a sniper rifle you need to use your surroundings more, you also need to use an assault rifle to cover yourself and continue the game to the end.
Call of Duty: Mobile game requires you to have good experience shooting sniper rifles and also keep your game sensitivity and camera view right. If these two things are right, then you can easily kill the enemy from a distance. Read this post thoroughly to know more details.
How to play with a Sniper Rifle in Call of Duty: Mobile
Playing with a sniper rifle and playing with an SMG or assault rifle is completely different. You'll want each short to damage the enemy and get you to your next target sooner. There are many players who prefer to fight from a distance rather than close range. In that case, you need to know how to operate a sniper rifle well. If you shoot the sniper rifle well, your enemies will stay away from you.
You cannot camp in one place or one area while playing the game, as most maps have different layouts. Only if you have a sniper rifle you can move around the map to target the enemy and defeat him. Most sniper players aim down-sight (ADS) well before they shoot, so you need to perfect your aim before attacking the enemy.
Best Sniper in Call of Duty: Mobile
Hello guys, if you are looking for the best sniper in Call of Duty mobile game then ZRG 20mm is undoubtedly one of the best. While the DL Q33 is a favourite among many players, the ZRG comes out on top because of the 20mm mag. Because of the mag, you can shoot anywhere on the enemy's body with this sniper rifle and this ammo can deal a lot of damage to the enemy. You won't find these types of features in all sniper rifles.
Both of the above Sniper Rifles have good damage and can kill enemies from a long distance. But still, ZRG 20mm is one of them. You might also be looking for the laid-out best sniper rifle in Call of Duty Mobile game. For that, we have discussed it in detail below. Read and understand the entire post well to know better.
ZRG 20mm Best Loadout in Call of Duty: Mobile
The ZRG 20mm stands out as a long-range powerhouse, capable of taking down enemies with a single well-placed shot. Its high damage output and impressive bullet speed make it ideal for both quick-scoping and sniping. Optimal Attachments, like- stippled grip tape, scope and MIP Light Barrel play a pivotal role in enhancing a weapon's performance.
Perks, like- toughness, agility, and ghost provide a strategic advantage that can significantly impact a player's performance.
ZRG 20mm loadout discuss below:
These attachments enhance the performance of the sniper rifle. Reduces recoil, increases firing range and reduces reload time. Optics and ammunition attachments are more subjective, so you can choose what suits your style and preferences.
Below are some suggestions for some more benefits:
With the right combination of components, players can transform the ZRG 20mm into a fearsome tool of precision, dominating the battlefield. Note that each player has their own layout and game mode. You have to figure out that setup yourself.
Best DL Q33 Loadout in Call of Duty: Mobile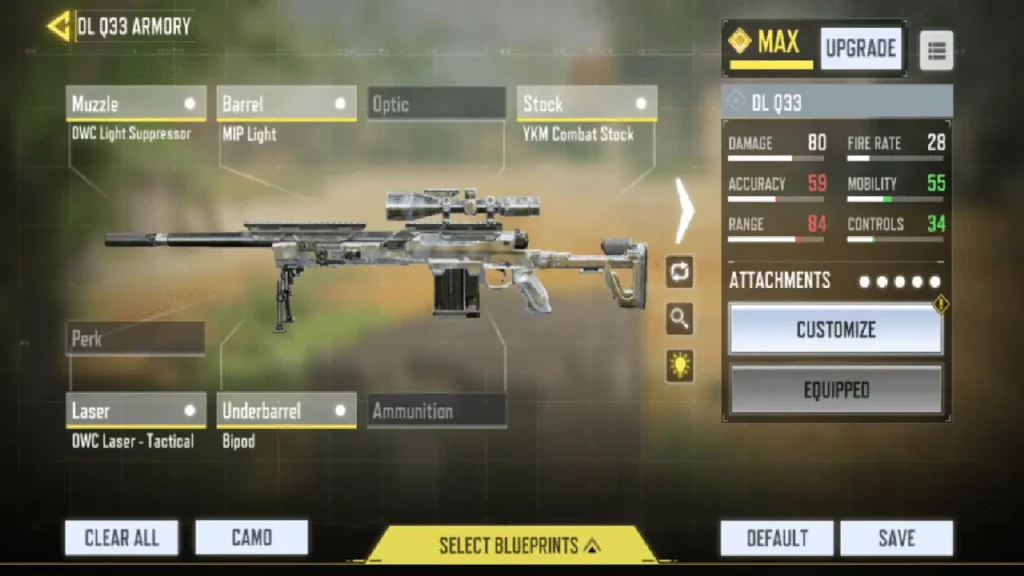 With a careful combination of these elements, players can transform the DL-Q33 into a tool of unbeatable accuracy, dominating the virtual battlefield and securing victory for their team.
Best Call of Duty: Mobile Sensitivity Setting for Sniping
Sensitivity settings are highly dependent on personal preference. If you just want sniping, however, the following sensitivity layout can help you find that sweet spot and improve your sniping in the future.
Camera Sensitivity Settings for Sniping in Call of Duty: Mobile
Firing Sensitivity Settings for Sniping in Call of Duty: Mobile
Best Sniper is reserved for those who give an instance accuracy, situational awareness, strategic positioning, and adaptability, these marks cross the ordinary, shaping the battlefield and inspiring awe among players. Through their exceptional gameplay and dedication, they leave a mark on the game's landscape, forever in the world of Call of Duty Mobile.