The Upthrust BGMI Ranbhoomi Season 2 Semifinals have come to an end, showcasing thrilling matches and fierce competition among some of the best teams in the Indian esports scene. Over the course of five days, 16 teams battled it out in 20 matches to secure a spot in the highly anticipated finals.
In an impressive display of skill and strategy, Team 8Bit claimed the top spot with a total of 160 points. While they had a slow start, the squad gained momentum as the tournament progressed, particularly excelling in fragging, which contributed to 106 of their overall points. Their consistent performance and ability to adapt to different situations set them apart from the competition.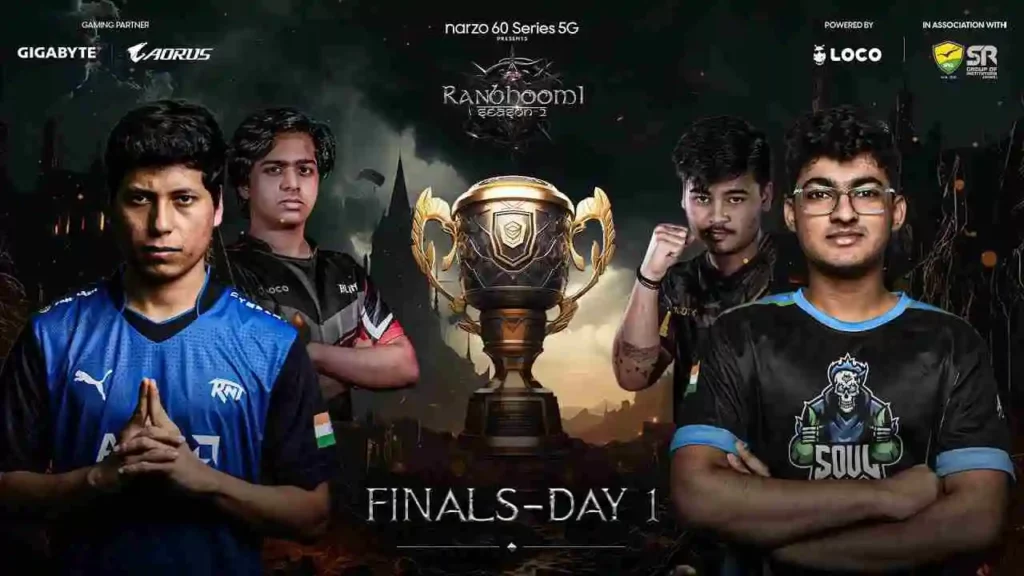 Close on their heels was Entity Gaming, led by the talented SaumRaj. Entity Gaming showcased exemplary gameplay on the penultimate day, allowing them to climb to second place and maintain their position until the final match. With a total of 148 points, they proved to be formidable contenders throughout the semifinals.
Team Insane, who held the top spot at the end of the second day, slipped to third place with 148 points. Despite this setback, they displayed great teamwork and individual skill, making them a force to be reckoned with in the upcoming finals.
Another notable team, Gujrat Tigers, comprised of experienced players like Prince and Eggy, secured the fourth position with 139 points. Their consistent performance and strategic approach helped them secure a spot among the top teams.
Numen Gaming, featuring star players Gill and Avii, had a rough start but managed to recover and finish in fifth place with 133 points. Despite initial challenges, they showcased their resilience and ability to perform under pressure.
God's Reign, while not performing at their peak, displayed enough skill and coordination to secure the sixth rank with 133 points. Their determination and adaptability were key factors in their success.
Surprises and fluctuations in performance were also evident during the semifinals. Gladiator Esports, once considered strong contenders for the top spot, concluded their journey in ninth place with 128 points. Team Soul and Team XSpark, fan-favorites, settled for 12th and 15th place, respectively, after experiencing ups and downs throughout the tournament.
Blind Esports, known for their outstanding form, finished their journey with the 14th rank. Unfortunately, Orangutan Esports narrowly missed the opportunity to participate in the finals, settling for the 17th rank. Meanwhile, GodLike Esports, a fan-favorite team, failed to qualify with a mere 97 points, showcasing a decline in their performance.
Enigma Gaming, a team with a recently formed BGMI roster, will require time to regain their previous level of performance. Unfortunately, they concluded their journey at the 21st rank. Similarly, Global Esports, featuring the prominent IGL Mavi, secured the 23rd rank. Both teams have been eliminated from the competition but are expected to come back stronger in future tournaments.
In terms of individual performances, Entity GamlaBoy emerged as the top fragger of the BGMI Ranbhoomi S2 Semifinals, showcasing incredible skill with a total of 35 frags. SprayGod from Team Aladin and Savitar from Numen Gaming followed closely with 33 and 31 frags, respectively, highlighting their exceptional gameplay.
As the semifinals come to a close, the stage is now set for an intense battle in the Upthrust BGMI Ranbhoomi Season 2 finals. With Team 8Bit leading the pack, all eyes will be on these skilled teams as they strive to secure the championship title. The journey towards glory promises to be exhilarating, with each team vying to outperform their rivals and leave a lasting mark on the esports landscape.
Also Read: Fallout Fans Reveal Full Prequel Made In Vegas Engine