How To Buy NC In PUBG New State: Here is the step-by-step tutorial on How To Purchase NC in PUBG New State game released today. The process is straightforwards but if you are facing issue or not sure how to do just follow the below steps, and you will be able to easily buy NC.
For this tutorial we will be using Google Play Redeem Code, but you can use any payment method in order to purchase NC from Google Play Store. The prices of NC are cheap as compared to PUBG Mobile and BGMI as the quantity is huge in less prices.
500+ PUBG New State Usernames (Cool, Stylish, & Unique)
What Is The Price Of NC In PUBG New State?
The current price of NC in PUBG New State are mentioned in the below table:
| Price | NC |
| --- | --- |
| ₹89 | 300 |
| ₹449 | 1,500+80 |
| ₹1,099 | 3,600+250 |
| ₹2,749 | 9,300+930 |
| ₹4,499 | 15,000+1,800 |
| ₹8,900 | 30,000+5,000 |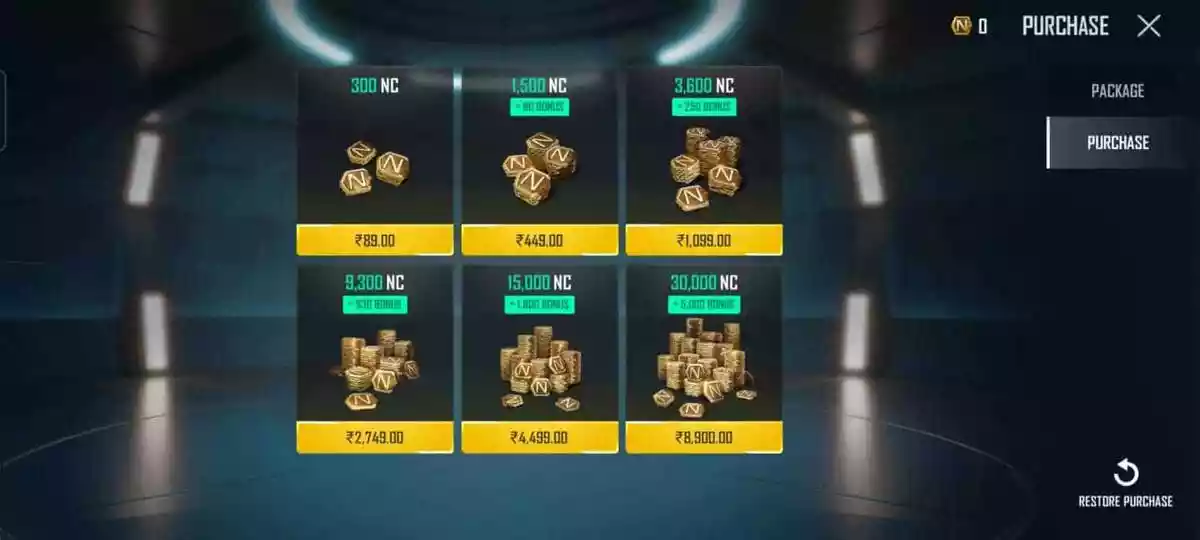 How To Purchase NC In PUBG New State?
Step 1: Log in to the game
Step 2: Click on the "+" icon at the top
Step 3: The price of NC will appear
Step 4: Choose any pack of NC you want to buy
Step 5: Use any payment method (Buy Google Play Redeem Code Recommended)
Step 6: Paste the redeem code
Step 7: UC will be credited to your PUBG New State account as soon as you make the payment
200+ PUBG New State Name Symbols | Japanese Symbols | Chinese Symbols
FAQ
NC Not Credited To My Account?
If payment has been deducted, but NC is not credited to your account, then don't worry. Just give it some time and once it is updated it will be added instantly. You can try restarting the game.
Can I Make Payment Using Google Pay?
You can make payment via any method, but the best way is Redeem Code.
Can I Buy NC From Codashop?
Currently, we have only method or purchase that is from play store, but in future we might see it listed on Codashop at cheaper rate.
This is the complete tutorial on How To Buy NC In PUBG New State Step-By-Step Guide. I'm hoping you are enjoying the game very much. If you have any further query about the game, please let us know in the below comments so that we could resolve.