Among Us is one of the best trending titles which was famous on the October month, this has the simplistic approach to the game-play. For the satisfaction of its fan base, the other online game this has also offers the skins, hat and pets in the game-play. If you are the gamer of the Among Us, you definitely have to know about the top best s in this game-play and their costs also. Here are top best outfits in the Among Us.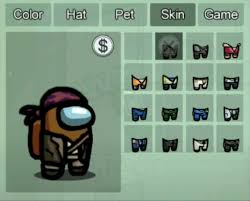 Captain Outfit
The Captain Outfit was one of the most trending and top most outfit in the game of Among Us, this looks very classy and stylish skins which includes a hat also. This looks the character both glamorous and cute to your character. The price of this character was Rs. 170 in the skin store section in the game.
Astronaut Outfit
This outfit has equipped with the Astronaut Skin in the game-play which looks super and damn cute, this was because of the little tiny helmet of the Astronaut which come along with the Skin. The price of this was also Rs. 170 from the game store.
Mask hat Outfit
This was one of the most best viable skin on the Among Us game-play, as the player can see that if they select the Mask Hat. They get the Mira HQ skin which was completely free. But the players have to pay for the Hat; the overall price of this outfit was Rs. 170. Headphones Skin
This outfit was very cool, stylish and also very colorful, this outfit gives a much more relaxed and classy look to the player's character and this comes with the Mira HQ skin. The price for this classy and cool outfit was Rs. 170 only.