as we all know that in today's are free fire was the er one trending game in India. the demand for the free fire was rise day by day. but there were many of the kids or many of you will not play .free fire due to shortage of storage in your mobile phone so don't to worry about the storage here we can come with some top 3 games like ff under 50 MB/games as ff under 50 MB.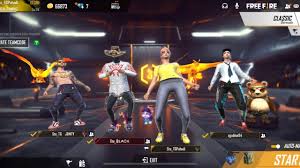 1. Stickman Battle Royale
This is a battle royale title comprising stick figures, and you will have to step into the shoes of one during matches. Like Free Fire, you will have to ensure your safety and kill enemies.
Stickman can run smoothly on low-end devices and be played online as well as offline. You will land on a hostile island and be one of the hundred stickmen fighting for survival.
Size: 21 MB Download it from here.
 2. Fire Squad Battle Royale
In this title, you will have to collect supplies and ammunitions lying around as soon as you land on the battlefield, just like you did in Free Fire. You will also have to play this game from the first-person perspective.
From snipers to machine guns, there are many powerful guns that you can use to kill enemies. The action-adventure-packed missions in Fire Squad will ensure that you have a good gaming experience.
Size: 43 MB Download it from here.
3. Pixel Gun Mobile Shooter
If you are into pixelated characters, you can try this BR game out. Like Free Fire, Pixel Gun also offers various skins that you can use to customize your character.
This game has an auto-shooting feature that allows you to shoot enemies as soon as you point the gun towards them. It is compatible with low-end devices and has easy, beginner-friendly controls.
Size: 34 MB Download it from here.
download free fire and play it from here. and share your screenshot with a booyah so we can tab it on our website with your name. Click here to download