Hello, friends here in this article we are going to tell you the best maps of the PUBG mobile which will help you to reach up to your Rank fast in the PUBG game yes friends so if you want to rank up your PUBG id then follow these PUBG Mobile maps help you to rank up quickly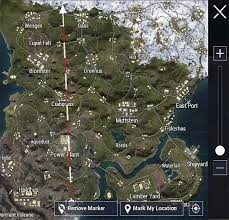 Erangel
The best map to use to rank up this year is still the original one, Erangel. This 8x8km map has served as the standard for all other areas, not just in PUBG Mobile but other battle royale games as well. Erangel could be considered the map that offers the most loot areas.
Meaning gamers can easily power up their characters compared to other maps. Also, its colossal area size makes it more interesting and flexible when it comes to survivability. It has a forest and grassland environment where players can hide from enemies. They can also swim in the ocean in this PUBG Mobile arena.
Especially if the circle is headed towards the Sosnowska Military Base.
Sanhok
Sanhok is one of the smaller maps in PUBG Mobile and measures only 4×4 km. This map is full of fights and has a lot of hiding spots. It is fast-paced and naturally, suits those who want to play aggressively and target more kills. It would be best if you were careful of people prone on the grass as they are the most significant threats. Short and medium-range fights are often seen in this map. Four to five kills and ranking in the top 10 will give you anywhere between 15 to 20 points. A chicken dinner will surely ensure higher marks, but a player needs to focus more on kills on this map.
Livik
The newest map in PUBG Mobile is also the smallest, at only 2×2 km in size. This makes it faster-paced than Sanhok, but due to the lesser number of players, there isn't much action. This map takes 15 mins to declare a winner, and is packed with action. A small map will always force you to go for kills rather than placement points, and scores for kills are more than for placement. A spot in the top 10, with four to five kills, will give you anywhere between 15 to 20 points.