Revenant Esports, a prominent Indian esports organization, has recently unveiled its highly anticipated CS:GO roster featuring both Indian and international players. With the Skyesports Masters CS:GO tournament just around the corner, Revenant Esports' announcement has generated significant excitement and anticipation among the esports community.
In a recent official tweet, Revenant Esports introduced their formidable CS:GO roster for the upcoming Skyesports Masters. Comprised of a combination of talented novices and seasoned professionals, this star-studded team is poised to make a strong impact in the tournament. With three players from India and two internationally-acclaimed imports, Revenant Esports' CS:GO roster is already being regarded as one of the prime contenders.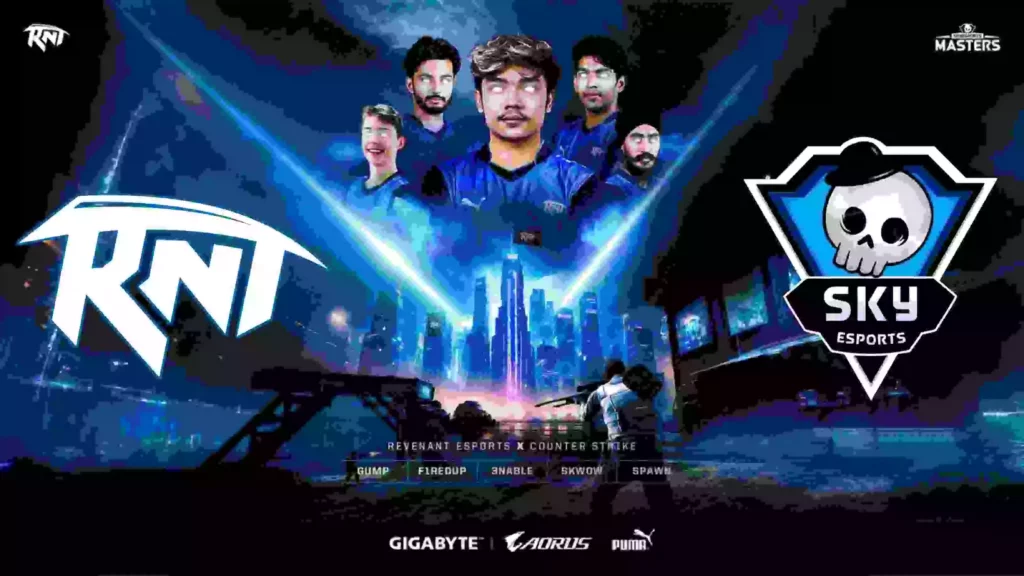 Leading the charge for Revenant Esports is the Australian player, Maclane "gump" Cross. Known for his exceptional skills and experience, gump brings a valuable edge to the team. Joining him is Muhammad-Ridzuan "3nable" Hazi from Malaysia, another skilled player who adds international expertise to the roster. Together, these two players form the backbone of Revenant Esports' CS:GO squad.
Supporting the international players are three immensely talented Indian players: Harsh "F1redup" Jain, Jaspreet "SpawN" Singh, and Sadab "SKwow" Khan. This Indian trio has consistently proven their prowess in the CS:GO scene and will now have the opportunity to represent their country at the IESF World Championship 2023. They will be traveling to Riyadh, Saudi Arabia, for the Asia-Pacific qualifier later this month. Their inclusion in the roster further strengthens Revenant Esports' chances of success in both the Skyesports Masters and future tournaments.
Expressing his enthusiasm about leading Revenant Esports' CS:GO roster, gump stated, "I am thrilled to be leading this star-studded roster for Revenant Esports in the upcoming Skyesports Masters. We have a perfect blend of young talent and seasoned veterans, and our diverse backgrounds and experiences will make us a truly formidable force in the tournament. We are here to give it our all and are confident of leaving a mark in the Skyesports Masters."
Revenant Esports' journey in the Skyesports Masters begins with a match against Gods Reign on 8th July. This highly anticipated matchup will be the first test for the team as they strive to prove their mettle against tough competition. With their talent, dedication, and strategic gameplay, Revenant Esports aims to make a strong statement in their debut performance.
The Skyesports Masters tournament boasts an impressive prize pool of INR 2 Crore, further intensifying the competition. Eight franchised teams will be competing for the championship, and the league stage will continue until August 17. The top four teams from the league stage will then advance to the Playoffs, which is set to happen as an on-ground event on August 26 and 27. The playoffs promise to deliver exhilarating matches and electrifying moments as the teams battle it out for the ultimate glory.
Esports enthusiasts and fans eagerly await the Skyesports Masters, with Revenant Esports' CS:GO roster being a major point of interest. The team's combination of domestic and international talent, along with their commitment to excellence, makes them a strong contender for the championship. As the tournament unfolds, all eyes will be on Revenant Esports as they strive to showcase their skills, teamwork, and determination on the grand stage.
In conclusion, Revenant Esports' revelation of their star-studded CS:GO roster for the Skyesports Masters has set the stage for an exciting and highly competitive tournament. With a perfect blend of Indian and international talent, the team is poised to make a significant impact. As they gear up to face formidable opponents, fans and supporters eagerly anticipate Revenant Esports' performance and hope for a successful journey in the Skyesports Masters and beyond.
Also Reaxd: Anime Adventure Codes For July 2023