How to Purchase UC & Royal Pass In Battleground Mobile India: If you have already downloaded battlegrounds mobile India and also migrated your PUBG account into BGMI and looking for the process to purchase UC and Royal pass in BGMI then this article is for you. In this article, I will be sharing the complete procedure to purchase it.
When the game was launched for early access the price for UC was higher than the average price but when so many players gave feedback about the increase in price they changed it and reduced it to less than the global price which is also great news for you. This means we will be getting UC at the cheapest rate all over the world.
What Is The Price Of UC In BGMI?
The current price of the UC in BGMI is cheaper than the global PUBG. You can look at the costs and amount of UC you will be getting in BGMI.
| Price | No Of UC |
| --- | --- |
| ₹75.00 | 60 |
| ₹380.00 | 300 + 25 |
| ₹750.00 | 600 + 60 |
| ₹1,900.00 | 1500 + 300 |
| ₹3,800.00 | 3000 + 850 |
| ₹7,500.00 | 6000 + 2100 |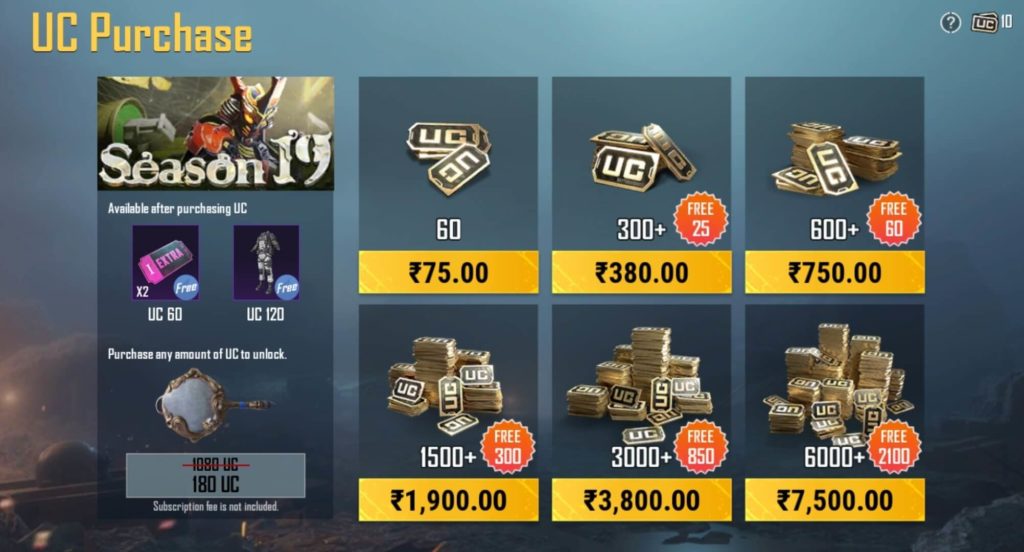 How to Purchase UC In Battleground Mobile India?
Step 1: Log in to the game
Step 2: Click on the "+" icon above the shop button
Step 3: The price of UC will appear
Step 4: Choose any pack of UC you want to buy
Step 5: Use any payment method (Buy Google Play Redeem Code, Recommended)
Step 6: Paste the redemption code
Step 7: UC will be credited to your BGMI account as soon as you make the payment
Note: Currently Midasbuy BGMI has not been listed and India is also not available on it, but as soon as it is getting listed you will be informed via this website. So make sure to bookmark this page.
This is how you can purchase UC in BGMI at the cheapest rate than PUBG global which is really great news for every player.
You might be thinking what if I had already purchased UC when it was at a high price, no need to worry about it, because if you have paid extra than the current price then you will get UC for the extra money you have paid. You won't get any refund, but you will get some extra UC. So it is excellent news. You can read how much UC you will get back if you have purchased at a higher price.