Season 16 for Pubg mobile will drop soon. Season 15 was full of surprises. Now in Season 16 there will be more rewards for royale pass and some new crates with new skins. Here are some of the Rumoured Rewards in season 16 that will be implemented in the new Update of Pubg Mobile. Pubg Mobile Season 16 Tier rewards are given down below as you can see here.
Pubg Mobile Season 16 Tier Rewards
First Let's Start with the new Logo for Season 16 Here we see a New Theme for Season 16 Let me know what do you think of the new Logo in the comments below. It feels like a Frozen kind of Christmas vibe theme. As the Christmas is near the Season would be based on that with trees and lighting all over the place.
Season 16 Conqueror Tier Reward
The New Frame for Season 16 is here and looks like golden sort of again Christmas decorations type of Frame. You can see it is shining and have that golden texture effect.
Season 16 Diamond Tier Reward
New Tommy Gun skin for Tier Rewards in Season 16 of Pubg Mobile. Even if it is not yet unban in India the Season will still get update to global version. Look at this skin and tell me in the comments how you feel like this times season tier rewards are. Are they good or pubg is just doing to make some money and nothing else.
Make Sure you Subscribe to My channel on YouTube for more Rumours and upcoming Season 16 event, Rewards and Everything else.
Season 16 Platinum Tier Reward
New Head Gear coming to Pubg Mobile Season 16 as Reward in tiers. It looks like face mask with filter on and and welding gear like mask to protect your eyes from the enemy fire. Colour combinations are great yellow looks good with tint of Metal grey and Spikes makes it feel like a Angry action packed headgear or helmet.
Season 16 Gold Tier Reward
This Helmet will go best with this Jacket like Cyberpunk style jacket with spikes and chains all over the costumes. Like a badass Characters whosw about to takeover the whole game as soon as he lands on the Battleground. Tell me in the comments how cool is this costumes scroll down to see more if the Tier Rewards which will arrive in Season 16 Tier Rewards.
Season 16 Ace Tier Reward
The mask is also on the Parachute but a different style one. The parachute is not that different it's the same color combination with the checker pattern and Season 16 logo as it will arrive for the next update after season 15.
Follow our Website and YouTube channel to get news on games and technology. New Reward for Pubg mobile season 16 will be dropped here as soon as we get it. New Reward are really good we have them right now but we will upload them soon enough so stick around and turn on the notification for more updates.
Pubg mobile Seasons 16 Release Date confirm?
The new Update will drop on 16-17 November at the time of Mid November. The Update Will include some new things Patch notes for the Update are given below. This just a summary for the update read the full post. For all the patch notes coming to new update.
New S16 Black Friday Event Pubg Mobile
Pubg mobile will get discount haul for Season 16 with Black Friday event. This will let you buys costumes and skins for less Uc due to Discount here are some of the skins coming to black Friday event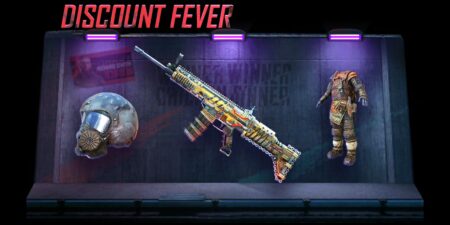 So Make sure you keep Uc if you want to buy the skins in for Discount upto 50% off. This news is not confirm yet but could be true let's see what happens in Season 16 with new Metro Exodus Collaboration.
Season 16 Event Calendar for Pubg
Season 16 Event Calendar looks nice enough for November through December. The Event Calendar will start on November 23 with Some Uc Discount or Offers. That will last till November 28. On 29 November New Girl skin/Costume will be available ending on November 29. Also at the same time from 25th November to 1st December Gun skin will be given. After that it feels like a Event or Something with four Colors like a Lucky draw or something.
Continuing the Calendar on December 1 to 6 we have same Uc offers or Discounts. And then new skin till December 21. Lastly the Air Drop Crates on the last day that is December 26. So Mark you calendar for the new Event in season 16 of Pubg mobile. You can download the beta if you wanna know more features coming in game. Just scroll down and download the beta 1.1 Pubg Mobile.
What's New in Pubg Mobile 1.1
Pubg mobile is partnering with the infamous Metro Exodus Game. The Game is based on Zombies and infected Animals due to spread of virus that's taken ovwr the world.
New Metro royal mode
Two new maps to play
Melee weapons can be picked up and throwed at some one
New Spike Trap Also in battle royale
Metro Royal mode has its own maps and new gameplay mode different than classic mode
Winter Festival-New Winter Castle Paradise, etc.
Visit the Winter Festival hut and gift pine tree, etc.
New System – Mode Loadout: Equipment configured in the loadout can be brought into battle,etc.
New System – Black Market: The Black Market is the exclusive Metro Royale shop, etc.
Read the full Patch notes Article here for Pubg mobile 1.1
How to Download Pubg mobile 1.1 Beta
Here's the download link for Pubg mobile Beta update for 1.1. Simply click on the button or link and install the apk no need to copy paste anything. Like obb and other stuff you can just Install and play the game. If it's now playing or starting just delete old beta game you have before this version and freshly install the new Pubg beta update 1.1. No need to Uninstall the Original Pubg mobile global version or the Official game you can play both beta and official at the same time.
That's it for today Watch my Youtube Channel for more detailed Events, where I talk about the events and Tier Rewards, news about Pubg Mobile and Faug When will the Pubg get unban and more please make sure to subscribe to my Channel. More rewards and coming soon.