There was new good news coming from the Lenovo Company for smartphone users and buyers, the company has teased its new launch of the Lenovo new series smartphone. This new series seems to take on the new Redmi Note 9 smartphone which was launched earlier by Xiaomi in China. similar to Redmi Note 9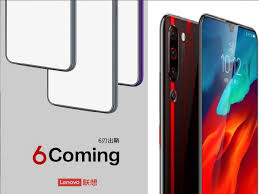 Lenovo company has released a small teaser image of the new series on Weibo.
The main aim behind the release of the treasure was to take a dig at the Redmi smartphone. This new series by Lenovo has come at an affordable price which competes against the Redmi Note 9 models.
The tagline for the new series
The treasure of the smartphone which was posted on Weibo does not contain any other information.
And details about the New Lenovo smartphone series.
Overall it shows three phones having thin bezels and says that "6 Coming". The Lenovo Company also includes a tagline for their new smartphone series.
With the help of Google Translate the written tagline was "Three Swords Together".
The tagline by the company was very interesting Lenovo brought its teaser just hours after Redmi posted the Redmi Note 9 series invite on Weibo on Friday.
The teaser by the Lenovo Company was also designed.
Similar to the Redmi as it looks like in a way to make an inverted Redmi invite.
However all this information was collected by the post and through the treasure.
The company has not provided any of the details about the new launch plan of the Lenovo new series smartphone. The timing of the new teaser suggests that the company is in plans to give a tough fight to Xiaomi Redmi with its new series.
The new phones are speculated to be under Lenovo's Lemon series and come as affordable options to attract the masses. A few years ago the company also used to sell Lemon-branded phones in the county of China.