Now as this year 2020 has been ending soon and everyone knows that the holiday seasons are upon us. Now, this was the best time for the customers to grab the most exclusive offers which come with a heavy discount, As well as the companies sell their products with a heavy discount to their customers to make them happy. Under the last sale of the year, the company is offering huge discounts on an array of products including smartphones, Smart TVs, accessories, smart wearables, and more. Here's a closer look at the discounts and offers. discount for the Mi customers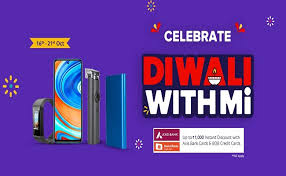 The ecosystem products and laptops are available for sale with up to Rs 6,000 and Rs 9,000 off respectively. While under the No 1 Mi Fan Sale the company is offering a discount of up to Rs 8,000 on Mi smartphones, the Mi TVs are listed with a discount of up to Rs 4,000.
Discount on Smartphones
The Redmi Note 9 Pro Max and Redmi Note 9 are up for grabs at Rs 16,999 and Rs 11,999 with a discount of Rs 2,000 and Rs 3,000 from the original price. As well as the Redmi Note 9 Pro is up for sale at Rs 13,999 down from Rs 16,999.
Top Deals of No 1 Mi Fan Sale
The company is offering hefty discounts on accessories and smart home appliances. The Redmi 10000mAh Power Bank received a discount of Rs 300 and up for sale at Rs 699. The Mi Beard Trimmer 1C is listed at Rs 899. Here is the list of top deals on products under sale.
Mi Smart LED Bulb (B22) at Rs 699
Redmi 20000mAh Power Bank Rs 1,199
Mi Smart Band 4 Rs 1,999
Redmi Smart Band Rs 1,399
Mi Motion Activated Night Light 2 Rs 500
Mi 27W SonicCharge Adapter Rs 449
Redmi Earbuds 2C Rs 1,299
Mi Dual Driver In-ear Earphones Rs 599
Mi WiFi Smart Speaker (With GA) Rs 2,999