PUBG Mobile KR is one of the alternative versions of the renowned battle royale game, Update Pubg kr. It is made explicitly for users from the Korean and Japanese regions and is published by PUBG Corporation.In this article, we offer a step-by-step guide on how to download the KR version of PUBG Mobile.
Steps to Update/Download Pubg mobile Kr version
Therefore there are now two steps to follow to update Pubg mobile kr version. Basically, you need wifi or good connection to download this fast. So follow the steps and download the game if any problems occur comment below.
Method #1 TapTap app For Update Pubg kr
TapTap is a Chinese app store from where you can download apps and games. It is also use to pre Install some games to test them at their beta stage. Moreover you can install this app for new upcoming games. Because this app is ban from play store you need to install it from their website.
How to download taptap apk
Open chrome and search for taptap apk
Click on the 1st result or their website and download the app
Now you need to install the app and put in your information to sign up for access
After that it's done.
PUBG MOBILE 1.3 Update Patch Notes
Anniversary Celebration! Party on and join in at the electronic music festival.
Hundred Rhythms: Upgrade skills and enjoy a new experience.
Clowns' Tricks: Pranks and Graffiti Galore!
Beware the Karakin! Battle it out in an all-new map.
Royale Pass S18: The HUNDRED RHYTHMS Music Party Begins
To give everyone a better gaming experience, PUBG MOBILE will be pushing out updates starting from March 9. The server will not be taken offline for this update. This update requires 640 MB of storage space on Android devices. The iOS version requires 1.55 GB. Please note that players on different versions cannot team up with each other, so please update as soon as possible.
Update the game between March 9 and March 14 (UTC+0) to get:
3,000 BP
100 AG
Cute Kitten – Pan (3d)
Hundred Rhythms Mode (From March 9) Pubg Patch notes 1.3
Hundred Rhythms arrived in Erangel, get the party started at the electronic music festival.The Music Armband grants 3 special skills. Choose a skill that suits you, upgrade the skill by collecting scattered cassettes, and dominate the battlefield with the help of your skill.Choose Erangel in the map selection screen to experience this exclusive gameplay mode.
Gameplay

A screen requiring players to choose a skill will appear on Spawn Island. Players will need to choose 1:the Guardian Armband, Recon Armband, or Camouflage Armband before the match begins.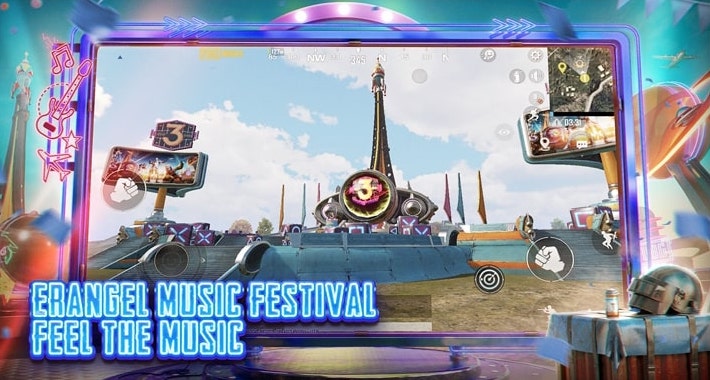 Players will get 3 skills after selecting a skill. The first is an active skill that grants the player a powerful ability; the other two are passive skills that grant the player buffs. Players will start the match with just the core skill and will need to get cassettes to unlock the passive skills.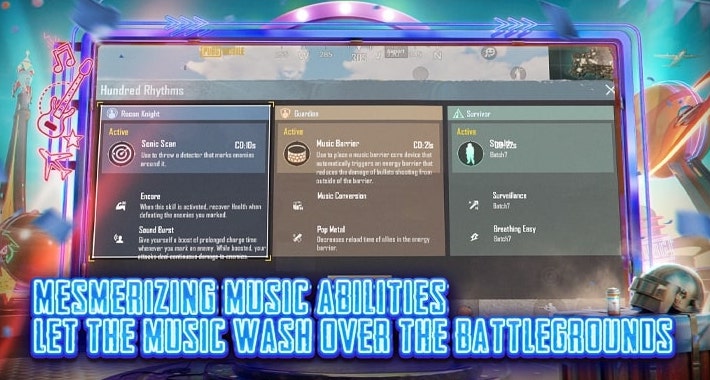 In each match, 3 electronic music squares will spawn on Erangel. One of them will always spawn on Spawn Island, while the other 2 will spawn in random locations. The electronic music festival playing dance music awaits your exploration.
Clowns' Tricks Gameplay (From March 31)
Clowns have arrived at the Anniversary Celebration Square and are graffitiing all over the place. A Clown Shop Vehicle has been placed here in Erangel. Players can collect Clown Tokens and exchange them for items such as normal combat supplies and special strategic items in the Clown Shop Vehicle. Patch Notes for Pubg mobile ver 1.3.
Strategic Items

Players can collect Clown Tokens and exchange them for the following strategic items in the Clown Shop Vehicle: information about the next Playzone, the next airdrop, and the density of enemies in the entire map.
Music Graffiti Wall

A Music Graffiti Wall will appear next to the Graffiti Square at Spawn Island in Classic Mode Erangel. Players can use spray paint on the Music Graffiti Wall, triggering notes to play when the paint is sprayed on the squares. Each square represents different notes of the same melody. Spray Paint multiple squares to trigger multiple notes.
Metro Royale: Uncover (Available from March 9)
The Newest Chapter
Metro Royale: Uncover will be available after the game is updated. In keeping with our Season tradition, at the start of a new chapter your honor, rankings, and inventory in Metro Royale will be reset.

New rewards will be available in the newest chapter. Accumulate Honor to get AG, permanent finishes, and other cool rewards!
Extra elite enemies will suddenly appear on the battlegrounds. Pay attention to the broadcasts and marks on the map. Defeat them to get great rewards!
Removed the Metro Exodus monsters and Tikhar Rifle, made enemies smarter, and made equipment balancing adjustments.
Other Map Improvements

After the version update, Power Armor mode will be available every Friday, Saturday, and Sunday (UTC +0).
Firearm: Mosin-Nagant Sniper Rifle:
The Mosin-Nagant is a 7.62mm bolt-action sniper rifle that is as powerful as the Kar98K.
However, its bullets fly faster and have less damage drop-off. It can knock out an unarmored enemy with a single shot from a long distance.
The Mosin-Nagant will spawn on Erangel and Vikendi, replacing some of the Kar98K rifles. Patch Notes for Pubg mobile ver 1.3.
Vehicle – Motor Glider:
Motor Gliders can now be found in Erangel and Miramar. They will spawn randomly on these two maps.
The Motor Glider is a 2-person vehicle that consists of a front seat for the pilot and a back seat where a passenger can shoot from.
To take off, the pilot must press the ascend button to raise the nose after the Motor Glider gains enough speed.
The Motor Glider's fuel consumption is directly related to engine speed. The faster you fly, the more fuel consumed. It is always a good idea to fill up the Motor Glider's tank before stepping on the throttle.
You Can Check Also My Tech News
How to update Pubg mobile 1.3.0