How to get a magic cube in free fire Hello friends we all know that every free fire player, as well as you tubers, are crazy for the free fie magic cube because with the help of your magic cube you can Easley get your favorite cloth for your character. So here in this article, we are going to discuss how you can get the season 18 magic cube or Diwali event magic cube of the year 2020. Hello friends we all know that free fire gives free of cost magic cube to their players in the event of Diwali.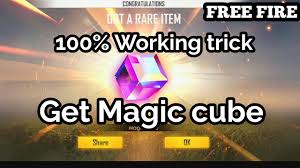 But in this Diwali you can be heard from many players that you have to complete the event then you can get the magic cube but it's totally fake every on will only have to complete some tasks of Diwali the everyone gets the skins of the gun and emotes but for the magic cube the players will do not have to do anything you can see that in your event screen a yellow container was day by day getting fill by yellow colors. And when the container will fill 100% then on Diwali day the player will get the magic cube. These is the details of how to get a magic cube.
One more thing for you all
On the Diwali day if you want magic cube without any glitch or anything other than withdraw your magic cube at 5 am in morning because on that day the servers are too much busy of free fire because many players will come to withdrew their prices
And a gift by our website to the free fire players on Diwali we can distribute 200 diamonds to our 100 website family members who can visit regularly in our website. And one more thing for the diamonds you have to pin a nice comment. And on the comment you have to write which was your favorite article.