There was always a time where the players in the GTA Online career where they have to expand their operations, the best way to do is the Warehouse. There is no better way to start doing this by getting a warehouse. GTA Online Best Warehouse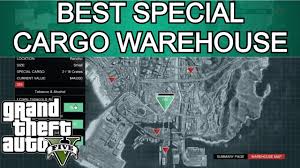 Warehouses in GTA Online are of two types: Special Cargo Warehouses and Vehicle Warehouses. Here is the list of the GTA Online Best Warehouse location in the game
Vehicle Warehouse: La Puerta
Each and every vehicle warehouse in the game can store up to 40 vehicles, in this the cars can be categorized into three category, low-end, mid-range, and high-end. The High-end cars always carries the most riskiest and most profitable part.
This was necessary to have a warehouse which was situated in an open collision-free area as damage done.
To the car reduces the player's profit.
Cheaper alternative: Derriere Lingerie Backlot
As this was not a large warehouse, Derriere Lingerie Backlot is significantly cheaper sitting at $902,000. This makes sense for players owning the Maze Bank West CEO office as travel time will be very short.
The money also can be recovered quickly as a full sell of 42 crates nets the player a solid $735,000.
Special Cargo: West Vinewood Backlot
The West Vinewood Backlot was the best and the perfect place for a warehouse as this was most close to the CEO offices.
This warehouse helps the players to make travel time and begin a new source missions shorter. This was the guarantee that the players who use this warehouse have fill the whole warehouse in just 10 hours. As this has so many features.
It was expensive and the price of this was $2,135,000, the profit of selling crates is $2,200,000. Sourcing crates does require a sizeable investment. To keep the businesses afloat of the player, it is highly recommended to source and sell vehicle cargo in parallel