In a spectacular display of skill and determination, GodLike Esports and Team Vitality have once again secured their spots in the highly anticipated COD Mobile World Championship 2023 Finals. The stage is set, and all eyes are on these two powerhouses as they gear up to compete in the gaming extravaganza, which will take place in the United States of America. Both teams are no strangers to success, having qualified for the Finals for the third consecutive year. However, this time, they are determined to leave a lasting mark on the global stage after lackluster performances in previous seasons.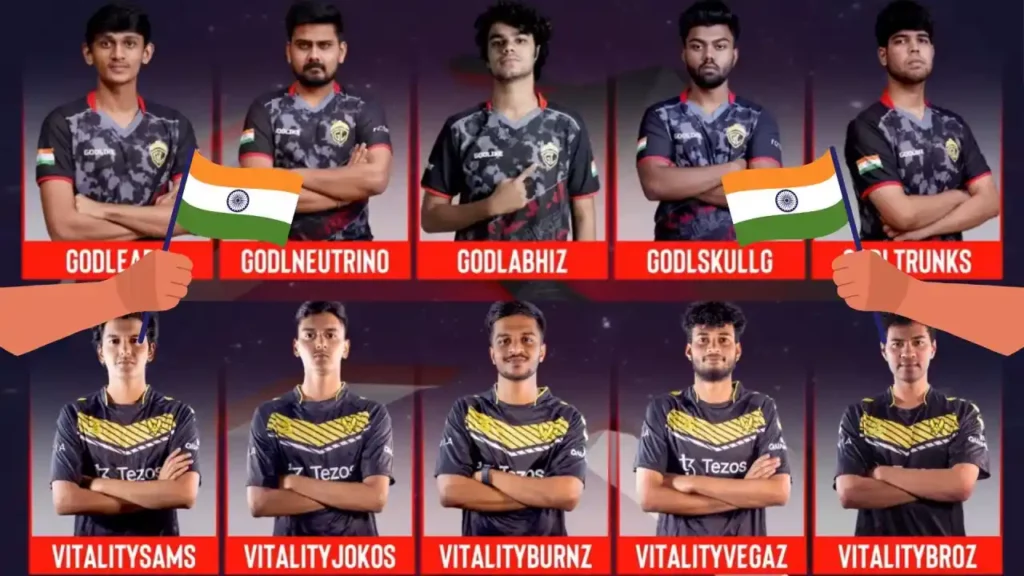 GodLike Esports Old Match Wins
GodLike Esports, in particular, has been a force to be reckoned with, having dominated the Snapdragon Pro Series Season 3: India, also known as Stage 4 of the World Championship. The team's journey to the Grand Finals was nothing short of remarkable, and their triumph over arch-rivals Team Vitality in the SPS Grand Finals was a testament to their exceptional skills. In a stunning display of prowess, GodLike outplayed Team Vitality, securing a resounding 4-0 victory, leaving no room for doubt about their capabilities.
What makes GodLike's achievements even more remarkable is the fact that the team has clinched victory in Stage 4 of the World Championship for three consecutive times. Interestingly, three key players – Learn, Trunks, and Neutrino – were previously part of Team Mayhem when they successfully propelled their squad to reach the 2020 WC Finale. Unfortunately, the event had to be canceled due to the outbreak of the COVID-19 pandemic, robbing them of the chance to showcase their skills on the global stage. However, fate has given them another opportunity in 2023, and they are determined to make the most of it.
The Snapdragon Pro Series Season 3 India COD Mobile tournament was a thrilling spectacle that took place from July 6 to 30. Sixteen teams from India battled fiercely for two coveted slots in the World Championship Finals and a prize pool of $25,000. The intense League Stage witnessed epic clashes over 11 days, with only the top eight teams advancing to the SPS S3 COD Mobile Playoffs.
The playoffs, held from July 28 to 30, featured a double-elimination bracket, setting the stage for some breathtaking showdowns. GodLike Esports displayed their unwavering focus and determination from the get-go, defeating Team NS in their first game. The team then went on a winning streak, triumphing over Time2Pound and securing their place in the Upper Bracket Finals.
In the Upper Bracket Finals, GodLike faced off against Team Vitality, who fought their way through Team Axis and TWOB to earn their spot. GodLike's dominance continued in this crucial matchup, and they emerged victorious, securing their place in the Grand Finals. On the other hand, Team Vitality, though relegated to the Lower Bracket, refused to be deterred and fought their way back to the Finals for a rematch against GodLike.
The Grand Finals between GodLike Esports and Team Vitality was an intense Best of 7 battle that had fans on the edge of their seats. However, GodLike's formidability was undeniable as they confidently exerted their superiority from the first round, mounting relentless pressure on their opponents. In a stunning display of skill, Team Vitality was unable to secure a single round against the GodLike juggernaut, solidifying their position as the undeniable champions of the SPS COD Mobile tournament.
With their victory in the SPS Season 3 India, GodLike Esports claimed a handsome prize money of $7,000, while Team Vitality took home $4,900. The third and fourth-place finishers, TWOB and Team Axis, were rewarded with $3,000 and $2,100, respectively. Meanwhile, Team I2K, Time2Pound, and Team NS received $1,600, $1,200, and $1,000 for their efforts, and the bottom eight teams that were eliminated during the League Stage were granted $400 each.
As both GodLike Esports and Team Vitality prepare to represent India in the COD Mobile World Championship 2023 Finals, they carry the hopes and expectations of their nation's passionate gaming community. With their history of success and an undying desire to perform on the grandest stage, these two titans of the gaming world are poised to deliver an unforgettable showdown. As the world eagerly awaits the culmination of the championship, it is certain that GodLike Esports and Team Vitality will leave an indelible mark on the global esports scene.
Also Read: How To Get Spooky Moth Silk Set In BGMI