In this tutorial, I will let you know how to get free character in BGMI and PUBG without UC. I will be sharing the genuine methods to unlock get characters in BGMI. By following this technique, I and many other people have got for free.
BGMI has total of 5 character in which one is for free, but rest of the 4 characters come at a price, but all the characters can be available for free if you are following this article completely. All the characters have some special abilities and by using them your gameplay might become a bit easier for you.
BGMI 4 Finger Best Control Layout And Sensitivity Settings
For this tutorial we will be using the character voucher to unlock the characters which can be easily earned by playing normal matches. So first get the character voucher and then redeem it with characters.
How To Get a Character Voucher In BGMI/PUBG?
Login to the game > Click Events
Click Events">
New BGMI Voucher Events
In Recommended go to, Anna Joins The Battle!

Complete the tasks and collect free character vouchers
Collect sufficient amount of vouchers and keep them in inventory
Note: You can collect free character voucher in any event and use to unlock them. Currently, the event is going on occasion of Anna Character launch.
Free Character Vouchers Event Video
How To Unlock Free Character In BGMI/PUBG?
Go to Inventory > Tap on Character Voucher > Use
Tap on Character Voucher > Use">
Use the arrow to change character > Click Purchase
Click Purchase">
If you have sufficient Voucher, the chosen character will be unlocked
BGMI Character List
| BGMI Character | Price |
| --- | --- |
| Victor | Free |
| Sara | 600UC |
| Carlo | 1200UC |
| Andy | 1200UC |
| Anna | 580UC |
How To Get Victor Character In BGMI?
You can get Victor Character for free in BGMI, as it is the only character which are available for free, whereas all the other character comes at a price.
Victor's special ability is reloading time of SMG reduces by 4%, and it can be increased by upgrading. By upgrading Victor to level 9 the SMG reloading speed can be reduced by 10% at Level9. Players will be getting free outfits, Legendary Conquest, Alloy Armor and Scorching Armor. You can easily unlock Victor for free by going to character section.
How To Get Sara Character In BGMI For Free?
BGMI Sara Character comes at a price of 600UC or 600 Character vouchers that can be earned by participating in events. There are many events BGMI organizes where players can get a chance to earn free character vouchers.
Sara is a female character whose special abilities increased their durability up to 10% when fully upgraded. This is one of the most loved character in BGMI and PUBG Mobile too.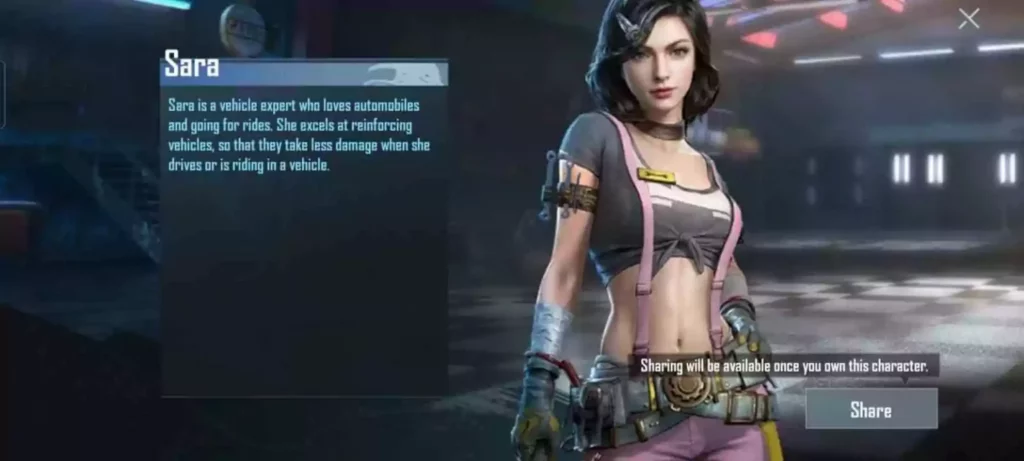 How To Unlock Carlo Character In BGMI For Free?
Carlo is a stylish character whose outfits are fabulous and stylish hairstyle. Character Carlo can be unlocked with 1200UC.
The special abilities of Carlo it can reduce the fall damage by 24% when fully upgraded to Level 9. It is a bit of a costly character because of its amazing abilities, but you can easily get Carlo for free with character vouchers collected in events.
How To Get Andy Character In BGMI For Free?
Andy is a magician who used to do magic trick in past, the special abilities of Andy it can enhance the speed of gun drawing and put away by 16% when fully upgraded.
Players need to pay the price of 1200UC, but there is an alternative to get Andy for free in BGMI by collecting sufficient amount of character voucher in BGMI. This voucher is mainly available in event section, so you don't need to worry about it.
How To Unlock Anna Character In BGMI For Free?
Anna is a newly added character in BGMI and PUBG Mobile after the v1.7 update, and after the launch of this character, an event is going on in her launch. The special abilities of this character has not been revealed by the game till now.
But I think she can help us to discover opponent positions in a fixed radius. Because her father was an investigator officer, and now she has also become an investigator officer, so she might help us in finding opponent. You can unlock Anna For free with character voucher.
This is how one can unlock and get free character in BGMI as well as PUBG Mobile. You can look for more events like this and some of the free character by using this character voucher card. In case you have any issue, please let us know in the below comments.