Free Fire x Street Fighter: Free Fire has made some exciting collaborations with some famous celebrities and companies over the years which includes personalities like Cristiano Ronaldo, D J Alok & Son Tung. This time around they have collaborated with the gaming giant Capcom to promote their Street Fighter 5 franchise. During this limited-time event, players can earn a lot of gifts & rewards from special in-game events and much more.
What is Street Fighter ?
Street Fighter is one of the most successful fighting game franchises on the PC & Console platform. Released first in the 1990s the game has released multiple iterations of game over the years gaining millions of fans for its titles. The latest iteration of the game is called "Streetfighter 5" which was released way back in 2016 and has sold more than 10 Million copies since its release.
Street fighter 5 Style Costumes
In this limited-time collaboration, players will have access to two Street fighter-inspired classic outfits-Ryu & Chun Li Bundle skins. The skin bundle also comes equipped with skin for a gloo wall too. The skin looks extremely classy and portrays Ryu & Chun li in their truest form. The Skin-set also contains the emote moves inspired by the legendary signature move of Ryu "The Hadouken".
Free Fire x Street Fighter Car & AWM Skin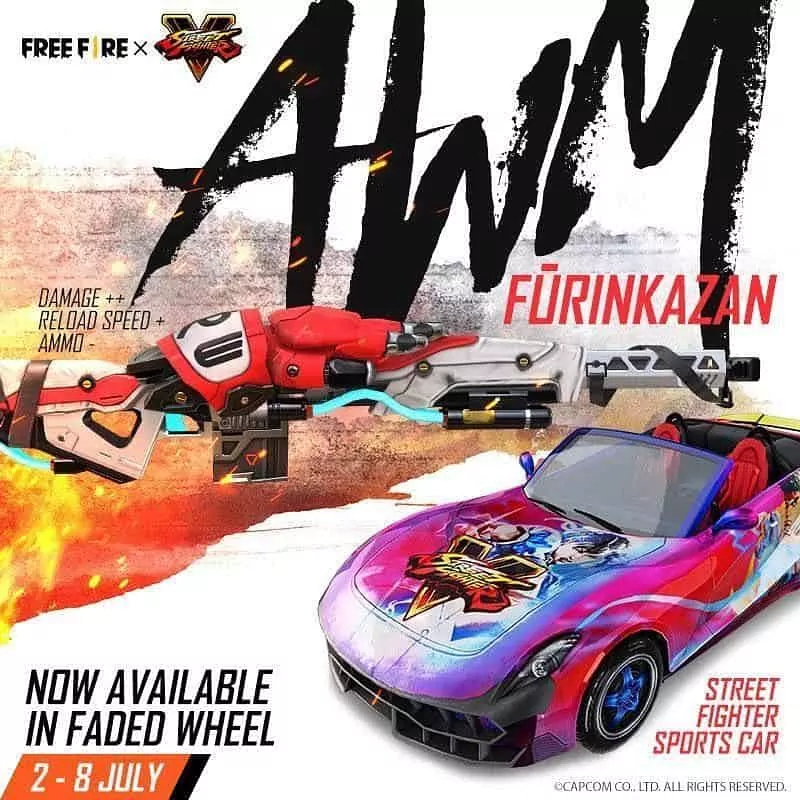 Apart from the skins inspired by the street fighter characters players may also win special skins for AWM & Sports car-inspired from the Street Fighter Universe. The AWM skin is named "AWM Furinkazan" when equipped will provide special bonus numbers to Damage, Reload Speed & increased ammo capacity.
Hadokuen as a Free Fire ability ?
What you read in the title is absolutely true. You can not only use the Hadouken as an emote but also as an in-game ability by sending a wave of energy from his palm towards the opponent. The details regarding the power and its damages numbers are not known yet.
Unlocking Rewards in the Fire Fighter event
Players can follow the given procedure to unlock all the gifts in the Street Fighter Limited event.
1.All the rewards and Gifts from the event are present in a tier system. There are currently four levels of chest in the event ranging from Fighter level 1 to Fighter level 4
2.Players can unlock a particular item corresponding to the tier by completing a certain task. These tasks range from a Simple-login to killing an enemy in any mode.
3.Players will be rewarded with a loot case token after completing a certain event these tokens can be used to obtain gifts and rewards corresponding to the tier.
4. To see the full list missions & mini-task please hover over to the limited time event list in the main menu.