There are many customers who want a phone which they can use in their offices, as this was not possible to keep a smartphone in the office at the reception. So, to avoid this problem every office has contains a landline phone, which can be placed on the reception. And all the necessary calls would be held on it. Best Office Phones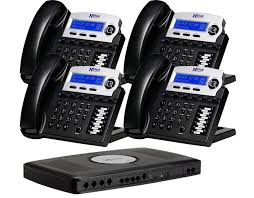 Here is the list of the best landline phones for Office:
Xblue X16 Small Business Phone System
The X16 also offers an "auto-attendant" for those inevitable times when no one is free to pick up the phone, and it will also create a "phone book" from your outgoing call log. Xblue's X16 is perfect for small offices as it comes with four telephones. Each phone features a digital speakerphone, which is a nice touch. And if your office is a bit larger, you can buy additional phones for an all-encompassing system. This office phone system is expandable to up to six lines and 16 telephones.
AT&T ML17929 2-Line Corded Telephone
This two-line operation AT&T corded telephone is a no-frills, easy-to-use, yet quality office phone. The speakerphone features an 18-number speed dial, a 100 name and number phonebook directory (with optional ringtones for each line), and a 99 name and number caller ID history log. You can dial and receive phone calls on two different lines for convenience, while the three-party conferencing function allows for efficient meetings. Even more, you'll know who's calling thanks to the telephone's caller ID/call waiting feature.
Snom IP 710 Phone
Audio quality is HD and is delivered through an enhanced speaker/microphone system. The display is also backlit and the phone accommodates up to 12 lines so it can handle the needs of most offices. The 710 phone is from the Snom 700 Series and it comes with a comfortable price tag. Even with the affordable cost, you won't give up any important features. The Snom 710 is loaded with helpful options, including an ergonomic handset and five programmable keys.