So Intel is out with its beast of a processor, 11th gen Intel cpu. In addition New technology is here with new 11th gen processor making them faster and better at performance.
Intel has finally taken the wraps off its latest generation of processors. The new Tiger Lake chips from Intel is its 11th-generation of processors, and offers features such as Thunderbolt 4 support, WiFi 6, and a lot more. Furthermore, their announcement focused on processors for laptops, with the company unveiling U-series processors aimed at thin and light laptop.
11th gen Intel cpu All models
So, as you know intel is No 1 Company to supply Processor to laptops and computers. As a Result they are launching 11 new CPUs ranging from 1.1Ghz base clock to 3.0 Ghz. Basically From I3 to I7 for Laptops. Similarly Tiger Lake Cpus come with Graphics Iris Xe. Besides which takes a leap in performance and battery life over its predecessor Ice Lake. To clarify the company claims that the new 11th Gen lineup offers the "best processor for thin-&-light" laptops.
| Processor | Cores/ Threads | Base Clock | Boost Clock | Boost Clock (Single Core) | Graphics | TDP |
| --- | --- | --- | --- | --- | --- | --- |
| Core i7-1185G7 | 4/8 | 3.0GHz | 4.3GHz | 4.8GHz | Iris Xe | 12-28W |
| Core i7-1165G7 | 4/8 | 2.8GHz | 4.1GHz | 4.7GHz | Iris Xe | 12-28W |
| Core i5-1135G7 | 4/8 | 2.4GHz | 3.8GHz | 4.2GHz | Iris Xe | 12-28W |
| Core i3-1125G4 | 4/8 | 2.0GHz | 3.3GHz | 3.7GHz | Intel UHD | 12-28W |
| Core i3-1115G4 | 2/4 | 3.0GHz | 4.1GHz | 4.1GHz | Intel UHD | 12-28W |
| Core i7-1160G7 | 4/8 | 1.2GHz | 3.6GHz | 4.4GHz | Iris Xe | 7-15W |
| Core i5-1130G7 | 4/8 | 1.1GHz | 3.4GHz | 4.0GHz | Iris Xe | 7-15W |
| Core i3-1120G4 | 4/8 | 1.1GHz | 3.0GHz | 3.5GHz | Intel UHD | 7-15W |
| Core i3-1110G4 | 2/4 | 1.8GHz | 3.9GHz | 3.9GHz | Intel UHD | 7-15W |
You can also read
Super fin Technology
They still built in on 10nm node/transistor which same as the Ice Lake Cpus. But the New Super Fin technology gives them a advantage. Basically the Fins are constructed wide so no electron loss and much efficient performance. So you get more performance for less power. Moreover, Intel already showed the chip on Architecture day 2020.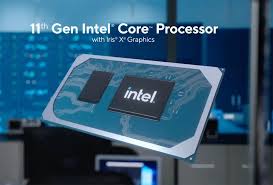 In addition to that it arrives with the new Iris Xe Graphics chip integrated inside. According to Intel, Iris Integrated Graphics is much faster than Amd's Vega Graphics. Basically, In their promotional Video they did a Gaming performance test. In that video Iris Xe did do well with 100% more fps than Vega.
New Generation of Laptops
Obviously these CPUs are built for Laptops and are much greater than their predecessors. Consequently, Laptops are now almost to the level of Pc. Because Performance from laptops are getting better and Faster than the previous generation of Laptops.
Greater than 150 designs according to 11th Gen Intel Core processors are expected from Acer, Asus, Dell, Dynabook, hewlett packardARD, Lenovo, LG, MSI, Razer, Samsung as well as others, including the very anticipated Galaxy Book Flex 5G coming from Samsung and typically the Swift 5 in addition to Swift 3 from Acer.
The business said the processors will certainly deliver up to 2. 7 times more quickly content creation, a lot more than 20 per cent more quickly office productivity, including least two occasions quicker gaming as well as streaming in real-life workflows over aggressive products. Intel furthermore introduced the Intel Evo platform company for laptop computer models verified to typically the second-edition specification and KEIs (key knowledge indicators) of the Job Athena innovation program.
The launch celebration also revealed new features in the particular pipeline from Intel, like support regarding 8K HDR displays and the ability in order to use up in order to four 4K HDR displays at when.
The built-in unnatural intelligence engine offers received an improve, too, inside the kind of improvements to video calls with characteristics such as background noise reduction, that will be useful in order to those continuing to be able to work remotely therefore of the coronavirus disease (COVID-19) outbreak.
11th Gen Intel Laptops
As you know Intel launching 11th gen Intel CPU will also make laptop company to launch laptops. Eventually laptop will launch one by one but right now it's just bunch of companies that have laptops with 11thgen intel. Because of the greater performance Laptops with Tiger lake CPUs are beast for gaming and editing. Also With new Superfin technology the processor are much more efficient and powerful.
Dell XPS 13 and XPS 13 2-in-1
As a result steady light fixture among our greatest laptops page, all of us have to business lead things off with of the new Tiger Lake Dell XPS 13 versions. The conventional clamshell and 2-in-1 model may both get Gamblins CPUs with Iris Xe graphics, generating them one regarding the more exciting options as possible light gaming laptops continually want in order to stick with anything a little even more mainstream.
Asus VivoBook Flip 14
Generally the Asus VivoBook line is usually getting a Tiger Lake makeover, yet the Asus VivoBook Flip 14 (2020) which we just lately reviewed is regarding particular interest. Also ur review unit is usually powered by a good AMD Ryzen 7 4700U processor plus integrated AMD Radeon graphics. Consequently tends to make this an excellent analyze case for how a new Tiger Lake will stand upward to the firm competition from AMD which had the reviewer "gobsmacked by the breakneck, rapid-fire performance scores" through the simple little 2-i
Acer Swift 5

The Acer Swift 3 and the Acer Swift 5 will be having the Tiger Lake treatment, but the Swift 5 in particular maintained to grab our attention because of its claimed 17 hours of battery-life. Today while we now have proven that you want to take electric battery life claims using a grain of sodium when you are usually starting with 17 hours there will be some room to fall and continue to impress us.
Based to Acer typically the Swift 5 is actually a "performance-minded" laptop although it might not quite manage to take on the XPS 13 in typically the bezel-free display division, it is about pretty close up. Additionally newest Iris Xe graphics could end up being a real variation maker for this.
MSI Summit E Series and B Sequence
So MSI is producing business laptops right now. Because, there had been no chance this specific one was slipping past us. Therefore, the well-known gaming notebook computer manufacturer is looking to be able to enter the company world with their Summit line that will will be powered by Intel 11th Gen Tiger Lake. That features an E line with dedicated Nvidia GeForce GTX 1650 Ti Max-Q graphics and a new B line together with the integrated Iris Xe graphics.